As 2022 draws to a close, we are looking back on another busy year of building and renovation works in Suffolk. As domestic builders, we take on all types of project, varying from small home improvements, to large scale house builds across Suffolk. These can run for months at a time with 2022 being another year full of variety for us – with jobs running throughout our area from Hartest and Stansted, to Sudbury and many more.  
As we pick back up our tools ready to tackle a busy start to 2023, now feels a good time to reflect on some of our highlights and work from this past year.
2022 started as so many Januarys do for us – busy with the colder weather highlighting and even causing home repairs and issues around Suffolk. These wet winter months meant lots of different exterior projects at Wayne Mills including roof repairs.
Our roof repair services cover common structural damage like sagging roofs and roof leaks. Leaks are especially problematic as they lead to more serious internal structural damage throughout the property, so addressing this issue fast, is vital. We have found ourselves up scaffolding and ladders all over our beautiful county this past winter, fixing, repairing and maintaining properties.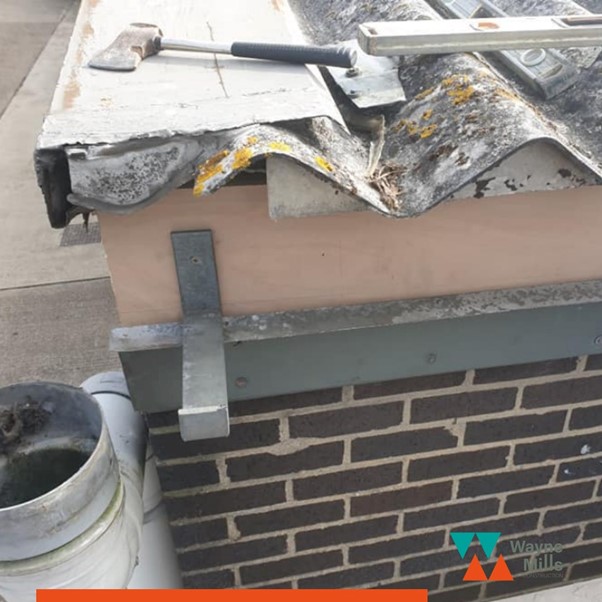 Another common theme we have found annually, is that with most spending lots more time indoors during the darker winter months, inevitably this means many use this time to consider what space they have inside their home.
This often leads homeowners to then consider whether it's a good time to extend. With over three decades experience in extending properties in Suffolk we are often asked for advice on whether its possible to reconfigure a home and the also the best way to go about it.
Extensions are an excellent choice for homeowners in Suffolk looking for more space. Whether you want an additional bedroom, more space for your kitchen, or to create a new home office, a home extension can be the perfect solution.
We have shared further knowledge on this subject in a blog we wrote last year – How to Create More Space in Your Home Spring 2022
One such home extension we worked on was a ground floor extension on a home in Lawshall. The removal of the conservatory enabled the front of the existing property to be transformed, adding new space and an increase to the overall size of the property.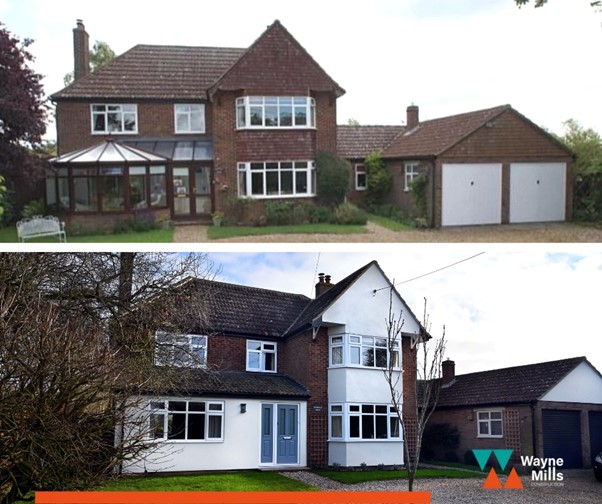 Moving into the spring, we found ourselves working on many different period properties and grounds, such as The Tudor Barn in Milden. Near the famous village of Lavenham in Suffolk, it's a 16th century farmhouse and land, passed down through six generations. It's now home to beautiful rural holiday accommodation for visitors, looking to stay in a piece of original Suffolk history.
Around the property runs a boundary wall that over time has become dilapidated. Having carried out lots of previous work at this property previously, we were called upon to tackle this repair job in Spring 2022. You can read more about how we carefully and meticulously carried out these repairs over in our blog – Upholding Suffolk History Brick by Brick
As the spring brought with it the warmer weather, sunny days also meant we were called upon to work on more and more exterior projects. Our services mean we can improve a property inside and out, including creating space and improving kerb appeal. These bifold doors we added, certainly flooded the ground floor of this home with extra light.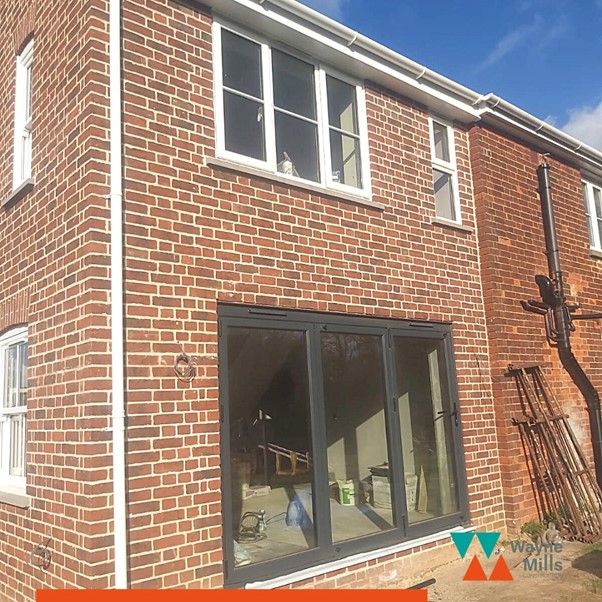 Another happy customer was home owners in Glemsford – we transformed the front of their home with a new driveway, complete with shingle drive, new brickwork and block paving.
As the weather dropped again in Autumn 2022, we found ourselves in Suffolk as indeed the rest of the UK did, in the middle of a fuel and energy crisis. Real fires and burners have unsurprisingly seen their usage soar -we worked on a property in Hartest where along with new chimney stacks, we also fitted log burners. Once complete, not only did they look amazing, but they also provided cost-effective heating for the client.
Having so much experience supporting house owners in Suffolk with their home repairs and maintenance, we also took this opportunity in the autumn to share on our blog our top tips for keeping bills down – Five Ways Suffolk Home Owners Can Reduce Their Energy Bills this Winter 
The size of the projects we work on, varies greatly. With one of our largest this year being a house project in Stansted. With a major extension and interior works to manage – the new roof going on in the summer was a significant moment. We've followed up with extensive interior work this autumn and winter and as the year draws to a close, our work in progress photos show what a huge transformation this home has been through.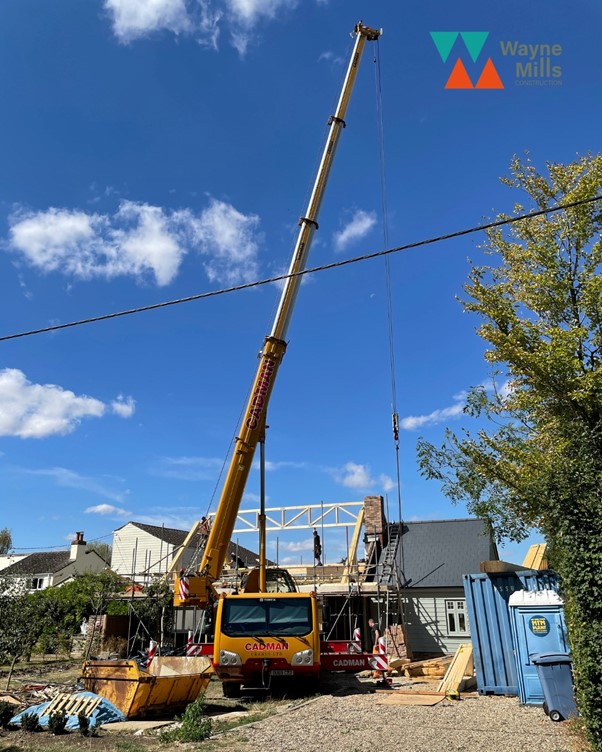 After the new roof was added in the summer, the finished result a couple of months ago, certainly elevated the elegant finish to the exterior of the property.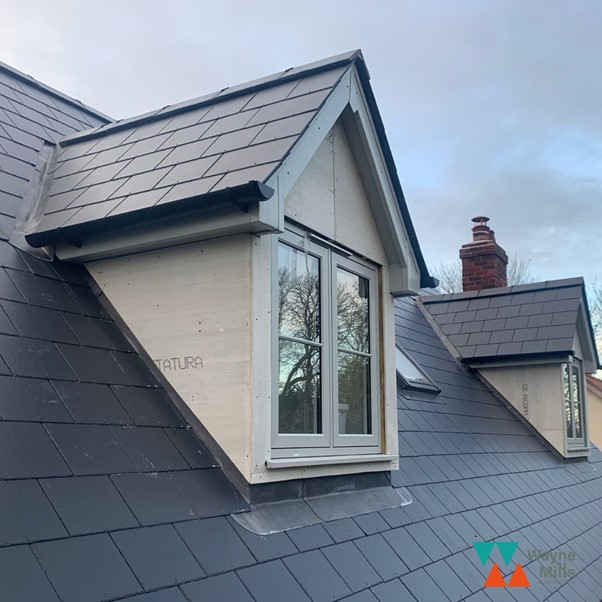 With the structural elements of the extension complete, as winter moved in, we moved on to the major interior elements of the project. This involved a bespoke kitchen fitted, a new internal stairway and all rooms brought up to spec. After completing the new extension, we also gave some TLC to some of the existing rooms for this Stansted home, updating the space for modern living.
If you are making plans for a new home building project in 2023, whether its in Sudbury, Bures Bury or Cavendish, wherever you are in Suffolk  – get in touch to see how Suffolk Builders Wayne Mills can help