First impressions matter and no more so, than with your property. Suffolk is known for its picturesque villages- pretty streets of pastel perfect houses offset against our beautiful rural backdrop. But how does your Suffolk home stack up?
If your home façade is currently letting you down, we have three top tips to maximise your kerb appeal.
Some easy fixes to do yourself and also bigger jobs we can help with- to get your Suffolk property in tip top condition.
1. Does Your Driveway Need a Make Over?
When you enter the driveway to any home, it acts as a first impressions framework, setting the scene for the opinion any visitor starts to form, before you've even opened the door.
The easiest way to ensure the first impression is the one you want, is simply to keep it clean and tidy. Sounds obvious, but so often, similar to mess building up inside a house, it happens gradually and therefore as home owners ourselves, we can become so used to it, we become blind to it. Our first tip for driveways is to spend some time sweeping and clearing before cleaning all of the empty drive. Power washers especially are amazing at giving external surfaces a quick refresh.
Sometimes though, a driveway can be well past a tidy up and need repair or replacement. There are various aspects that can need updating from the boundary walls or fences to the driveways themselves. We have recently tackled a full driveway project in ……….. This was a complete refit, involving a new gravel driveway and brick wall construction, all framed by a sleek modern grey block paving. You can also also see the full project over on our Wayne Mills Facebook page video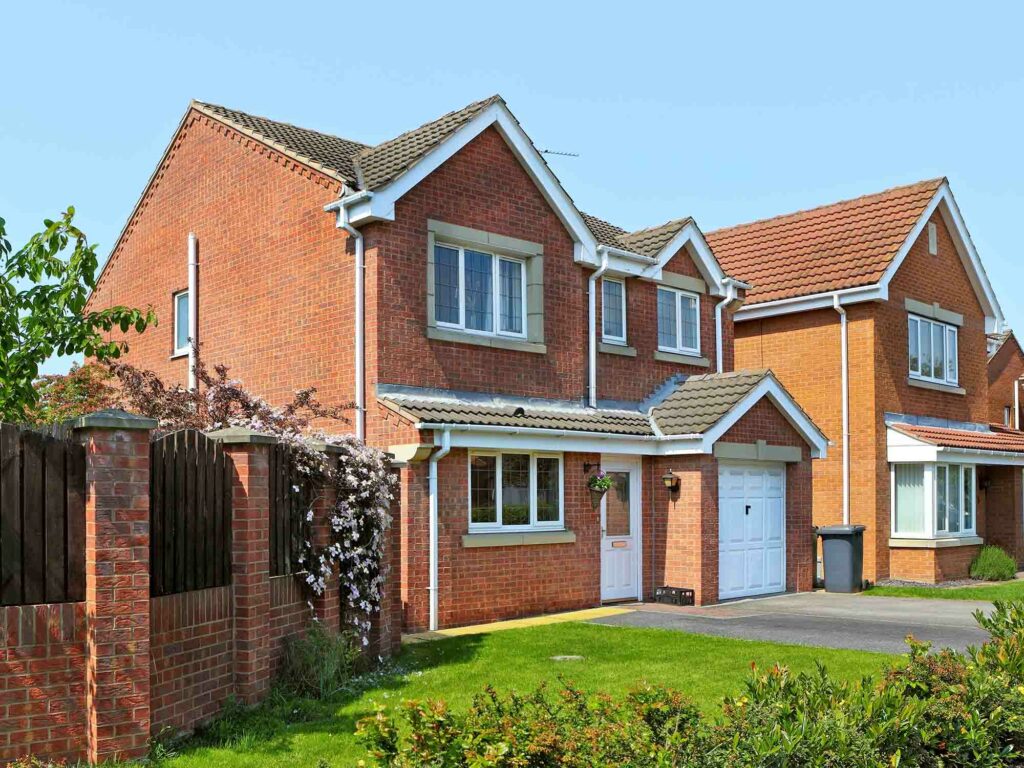 Windows and Doors Matter
When it comes to the outside of our homes, it can be easy to only think about the practical. The security of a front door, or the warmth and light the right windows provide are all essential, yet up keep is also imperative to create the desired aesthetics.
If you are considering a new front door, obviously the practicalities comes first, but also make sure you give equal consideration to the colour too. One way to ensure your property looks fitting in your area, especially if the surrounding houses are of a similar age and build, is to take in to account what your neighbours have done.
According to a recent article in the Sun newspaper it's not only your front door that matters. Garage doors are crucial to kerb appeal too. The interior expert interviewed suggests the colour of your garage can in fact make a huge difference to the external appeal when home owners are looking to sell.
She recommends "Cool greys and blues are a quaint, classic choice, and look spectacular on certain homes. If your home is stone or has stone accents, especially lighter grey ones, these colours pull the look together."
Red on the other hand, although a great way to add in an accent colour needs to be used with caution. It can draw attention to particular features, but should only be used if you are happy to repaint more often, as bold colours such as these look far worse than neutrals when starting to chip.
Window maintenance is also key. We recently worked on a lintel project at a home in ……..the owners needed a lintel replaced and new surrounding brickwork.
Go Greener
Adding greenery is another great way to bring the front of your home to life. Tubs and hanging baskets potted up with colourful plants and shrubbery don't need to be expensive either. Yet they are a quick easy fix to liven up an entrance way. If there's space, an arch also adds more interest with a fixed focal point as visitors arrive. What about if you are not green fingered? Faux works well too. Gone are the days of fake plants looking cheap and out of place outside. The high quality of modern artificial plants means you can now add greenery without the normal upkeep.
If you are considering making repairs and updates to your Suffolk house get in touch to see how we can help.