As a construction company, we at Wayne Mills Construction are proud to show people the importance of the right foundations. The best buildings are those which are built with a mixture of passion and professional knowledge. You need to know what you are doing to make any construction project work out…but you also need to understand that the project requires patience and passion. What good is a skilled builder without the artistic passion and vision to make the dream come true?
Well, at Wayne Mills Construction, we have taken that same philosophy into our online accessibility. That is why we are immensely proud to show off our new website!
Find out more about Wayne Mills Construction than ever before
The 2020s are going to be a decade of coming together, finding consensus, and helping each out one another. Things are different now, and at Wayne Mills Construction things are different for our team, too. This is why we want to make sure that you know everything you can about us before you think about hiring us: Who we are. What we do. Why we are the right expert for you. And, crucially, when you should hire us – so our website is now packed with more detail than ever before!
Not only do we have a new look, but we have included more information about the company and our team than ever before. Now, you'll know us by who we are as opposed to simply what we do. We are human beings with a professional passion for building, development, and change. This is who we are, and we will never shy away from our passion for those roles.
This is why, if you are serious about any kind of building project, you should think about looking through our website. By the end, you'll feel comfortable giving us a wave in the street!
Local building and renovation experts, here to assist
As locals in the Suffolk area, the team at Wayne Mills Construction are proud to live where we do and even prouder to play our role in making the community look better. So, you can trust that the job we do is the kind of job we would do for our own family. After all, we're all part of the one, big community; it would therefore make sense for us all to work together as one, and make this the best place to live that we can!
So, with our new website, you can find out more about us than ever before and why we are the ideal hire for you. Let us take the headache and the strain out of building and renovation works in Suffolk. Take a look through our website, and you'll soon see why we are the ideal pick for you hire.
Before and after images of our new Wayne Mills Construction website and brand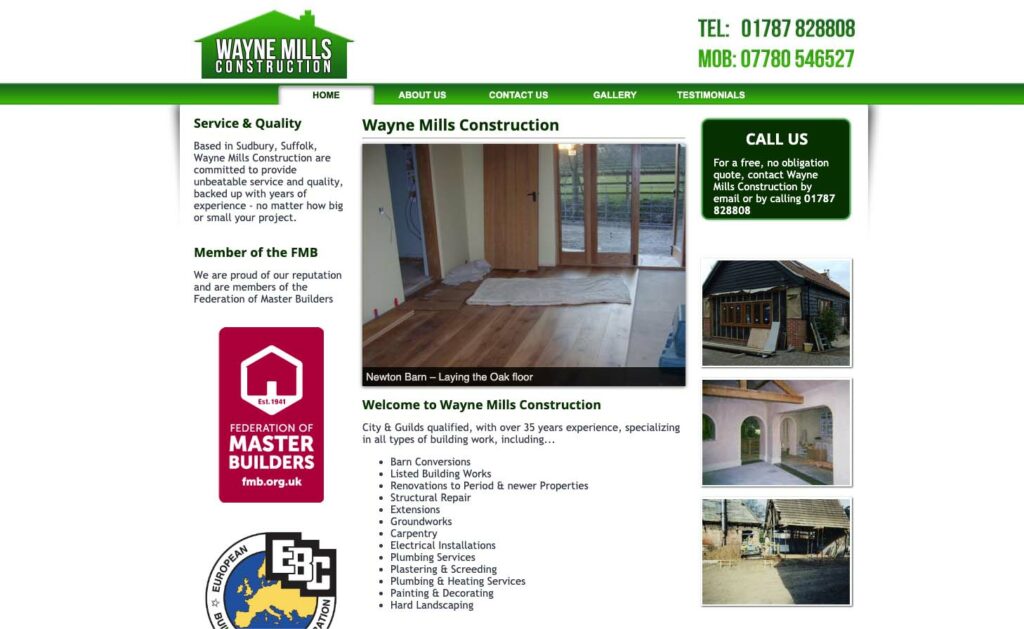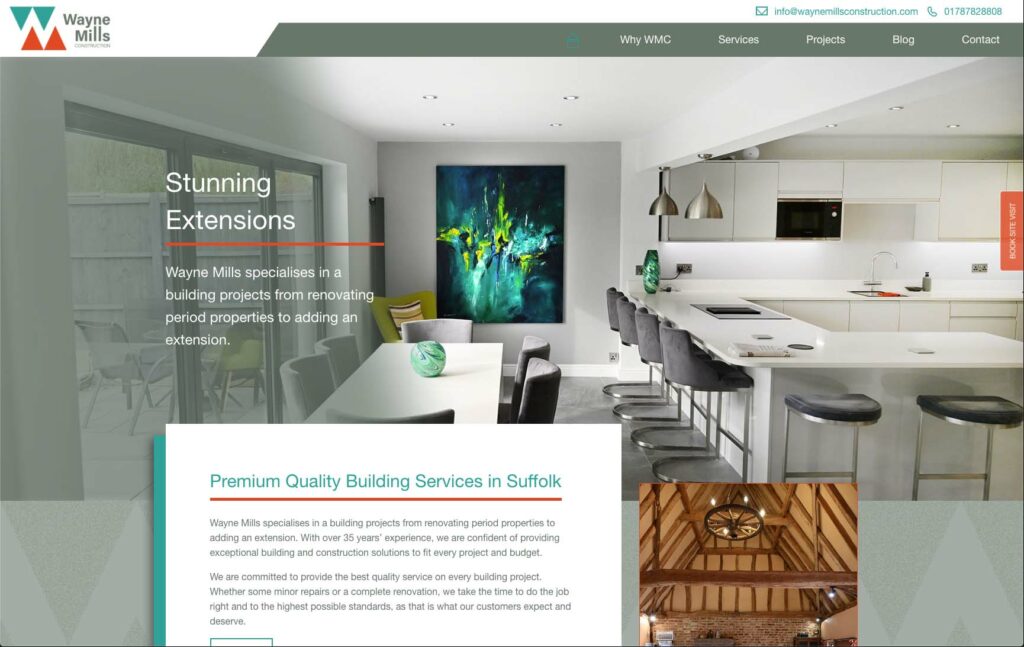 Don't let a renovation project become confusing; let us show you just how easy it is to make the changes you want, thanks to our new and improved website.